Kwame Kyei holding the calabash ruining curses on Yahuza and the other executives
The opposition National Democratic Congress Youth Organiser for the Suhum Constituency in the Eastern Region, Yaw Seidu, popularly known as Yahuza has rained curses on the party members for accusing him of being in bed with the ruling New Patriotic Party (NPP).
A party member, Kwame Kyei Dominic Mensah had accused the Youth Organiser, Yaw Seidu, the Constituency Chairman, Yaw Opoku Okra, and the Organizer Saddick of receiving money/ "sponsorship" from the New Patriotic Party bigwigs in Suhum such as the former Member of Parliament, Fredrick Opare Ansah, the Political Adviser to the Chief of Staff, Frank Asiedu Bekoe, aka Protozoa", and the current MP Kwadwo Asante among others to undertake the party activities.
Kwame Kyei also accused Yahuza who is a serial caller of having been paid off by the NPP to work against his party, the NDC, chastise his party members including national leaders to branch executives, etc on radio.
He also stated emphatically that Yaw Seidu aka Yahuza had received an amount of GHC8000, bags of rice, etc from the former MP, Opare Ansah to undertake an assignment for him.
To that effect, the party members are pointing accusing fingers at the party executives for being in bed with the NPP in the constituency.
The accusation which has erupted into serious chaos leading to the pronouncement of curses and swearing with different water gods and other stuff by the individuals involved.
However, Yahuza on one of the party platforms in an audio recording rained curses on Kwame Kyei for accusing him and called on some gods to deal with him if what he said is true.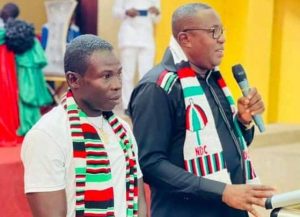 The Constituency Youth Organiser, Yahuza With the National Chairman, Ofosu Ampofo
In a rebuttal, Kwame Kyei on Monday night stormed one of the main streams in Suhum, with a cloth tied around his waist holding a calabash and heavily rained curses on Yahuza by insisting that he has evidence to support his case against the Constituency executives.
He allegedly allowed someone to record his actions while raining curses on the party executives and later sharing the videos on social media.
Yahuza when contacted admits that he has also ruined curses on Kwame Kyei to clear his name since people are pointing fingers at him.
He explained that he is ready to face any consequences if truly he has been bribed by the ruling NPP to do their biddings, adding that the Regional Executives and National are in support of his actions.
Meanwhile, the video of Kyei which is trending on social media prompted the attention of the grassroots members calling on the party leadership to take action.