MANAGEMENT OF Empire Builders, owners of Trasacco Valley, has inaugurated a 300-member Asset Protection Unit to provide security for its properties in Ghana.
The well structured unit primarily seeks to provide security for Empire Builders staff, current clients and potential clients who intend doing business with the company.
At its inauguration on Friday in Accra, PR Consultant of Empire Builders, Kwame Owusu Danso, said  the unit's role was carefully designed to ward off  encroachers within the confines of the law saying, "This would include but not be limited to managing risks, reducing risks and or mitigating risks, surveillance, Joint Police Patrols and providing physical security systems, both on-site and off-site."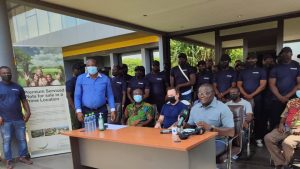 He added "We, here at Trasacco, are playing our measurable and achievable part and pray for all to join this Wagon of Change, development and Progress.
"However, this comes with a cost, the cost of having to deal with some systemic imbalances actuated by adverse interests and malice, which have greatly impacted our establishment.
"This fundamentally has necessitated the need to inaugurate our Asset Protection Unit with the sole purpose of securitising our legally acquired property(ies)."
He also disclosed that the unit has been integral and a nerve centre of all operations and undertakings of the company over the years.
He pointed out that as a business, Trasacco was very committed to delivering quality services without fail to all its clients.
"As a company, we pride ourselves as being the torchbearers and trailblazers in the real estate & development business and we couldn't have achieved this milestone if not for the death-defying support we have received across all divides, which support, we dare say, we do not take for granted."
A business desk report