The United Nations Children's Education Fund (UNICEF) representative in Ghana, Anne-Claire Dufay has called for an inclusive, safe, and protected society for every Ghanaian child irrespective of his/her ability.
According to her, children, without discrimination when given fair chance and an opportunity and requisite support, society would be more prosperous.
Speaking at the unified football for inclusion tournament organized by UNICEF held at the Akropong School for the Blind, in the Eastern Region, she added that at UNICEF, they believe that all children and young persons should have a fair and equitable chance and should be able to enjoy their rights, no matter their abilities.
The football tournament which involved only disability schools was organized in preparation for the marking of World Children's Day on NoveNovember 2022.
The event was also meant to send a strong spotlight on an all-inclusive society and equal rights for every child.
Ms. Dufay noted that sports tournaments provide an excellent occasion to build friendships and improve mental and physical health and well-being.
Additionally, she said, "they allow everyone to demonstrate courage and to exhibit what they can achieve if given a chance.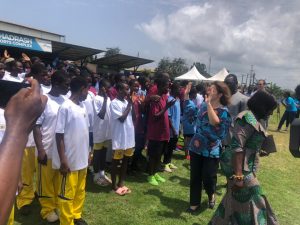 "Next month, on 20th November 2022, we will mark World Children's Day. And this year we seek to promote inclusion and non-discrimination".
"In other words, we are reminding the world that rights and opportunities belong to every child," she added.
The UNICEF Representative to Ghana indicated that she was also pleased with the support her outfit has been given to the government of Ghana in the implementation of inclusive programs across different sectors.
The participating schools in the football tournament include, the host school, Akropong school for the blind, Koforidua school for the deaf, Wa Methodist School for the blind, and Wa school for the deaf.
-BY Daniel Bampoe