Mr. Oroh speaking after the walk
Leading financial institution, Zenith Bank Ghana Limited, has held the second of its biannual health walk.
The walk held on Saturday, September 28, 2019, under the theme: "Go lite…Live lite" also formed part of activities marking its 14th anniversary celebration.
The walk commenced at about 6:00am and brought together staff, management and 'friends' of the Bank who walked for more than an hour across principal streets of Accra.
The routes for the walk included Zenith Heights – Ridge Roundabout, Osu Cemetery-Ebenezer Church – Osu Shell – ShopRite – Wood in – Danquah Circle – Fire Service Headquarters – Police Headquarters – Ako Adjei Interchange – Church of Latter Day Saints – Zenith Heights.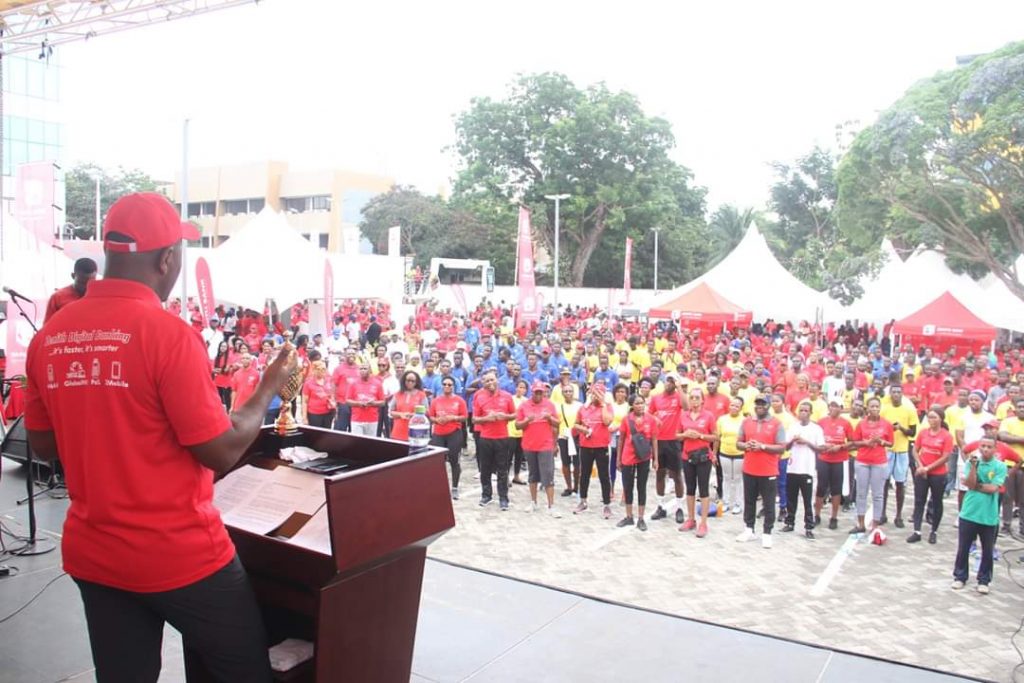 Managing Director of Zenith Bank Ghana Limited, Henry Oroh, delivering an address after the walk, said the Bank was started with the vision of a being a reference point in the provision of prompt, flawless and innovative banking services and products in Ghana.
According to him, the bank set to achieve its vision by investing in the best people, best technology, and best environment.
"We look back in 14 years, and we have seen a bank that have moved to the top of the banking industry in terms of corporate governance," adding that "Zenith Bank has moved at the top of the banking industry in terms of profitability.
He said the bank has won several awards including Best Bank in Ghana, over the years in the country and across the West African Sub-region.
He thanked stakeholders for the contributions they have made to the growth and upliftment of Zenith Bank.
"I say you will move from one glory to a higher portion of glory," he said, as he shed light into the future of Zenith Bank and how the living standards of its staff would change for the better.
He praised the excellent customer service and staff loyalty at Zenith Bank, urging that such a positive work culture should be maintained.
BY Melvin Tarlue