Some 109 secondary and special schools in Accra have been disinfected.
The secondary schools have been disinfected to pave way for the safe return of second year Senior High School (SHS) students.
Second year SHS students are expected to resume school on October 5, 2020.
The Wednesday, September 23, 2020 disinfection exercise is the third of its kind since the closures of schools nationwide due to the outbreak of coronavirus.
Zoomlion Ghana undertook the disinfection and fumigation exericse.
In the Greater Accra Region, a total of 3,680 basic schools are expected to be disinfected by the waste management giant.
The disinfection exercise is also being carried out in other parts of the country.
In Accra, the disinfected schools included: Accra Girls SHS, KAS SHS, Presby Senior High, Accra Senior High, Accra Rehabilitation Centre, ATTC, Accra Academy, Holy Trinity Senior High School, Sacred Heart, Ideal College.
Others included Wesley Grammar Senior High, Wesley Girls SHS, State School For Deaf, Achimota Senior High, Kinbu Senior High/Tech, and Castle Road Special School.
General Manager of Zoomlion Accra Zone, Ernest Morgan Acquah, speaking to the media on the sidelines of the disinfection exercise, said since Zoomlion commenced the schools disinfection exercise, the rate of coronavirus reported by the Ministry of Health from schools has declined.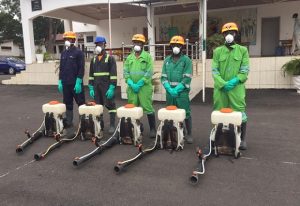 He, however, urged parents to advise their wards to adhere to the coronavirus safety protocols.
Assistant Headmaster of Accra Academy in charge of Domestics, Asun William Kwame, says his outfit was expecting about 1000 plus students beginning from October 5, 2020.
Classrooms and dormitories in the various schools were all disinfected.
Mr Kwame says Accra Academy has not recorded any case of coronavirus, thanking Zoomlion for the spraying exercise.
By Melvin Tarlue