The Ho Airport received its first test flight by Africa World Airlines, a commercial airline yesterday.
The flight was to allow AWA and the Ghana Airport Company Limited (GACL), managers of the airport, to iron out all outstanding issues to pave way for actual commercial flights in the coming days.
This test flight followed a familiarisation visit of the Ho Airport by the new Minister of Transport, Kwaku Ofori Asiamah about two weeks ago.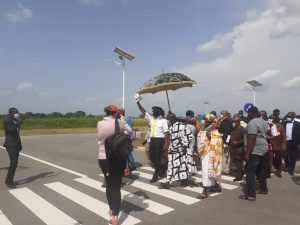 The minister, who also interacted with the chiefs of Ho during the tour, said among others that commercial flights would begin in two weeks; all things being equal.
Dr. Archibald Yao Letsa, the Volta Regional Minister, who confirmed the first commercial to DAILY GUIDE, noted that the move was a major step in actualising the vision of making the Ho Airport operational.
"It is a piece of welcoming news. We are prepared to receive the test flight by AWA. We hope that flights will begin in the subsequent weeks," the minister noted.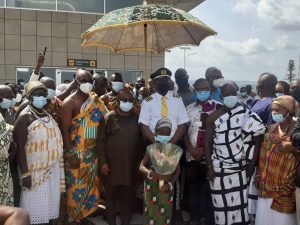 Passion Air to Follow Soon
Dr. Letsa also announced that Passion Air, another airline company, has expressed interest to fly the Ho route.
Pursuant to this, a team from the company was in the regional capital (Ho) on Monday to also undertake some assessments of the airport and other facilities.
He said, "From their own assessment, the team was happy with the facility and expressed optimism to begin flying the route.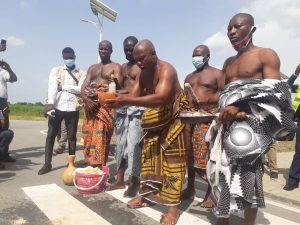 Emergency Operations
Meanwhile, the Emergency Operations Control Group (EOCG) for the Ho Airport has been constituted this week.
The EOCG was constituted in line with the Ghana Civil Aviation Directive Part 14, with the main objective of putting in place an emergency preparedness plan for aircraft operations at the airport.
A team from the GACL, led by Adu Caleb, has trained the team on their role in a meeting this week. The constitution of the EOCG and the holding of a maiden meeting is a prerequisite for the commencement of commercial flight operations at the Ho Airport.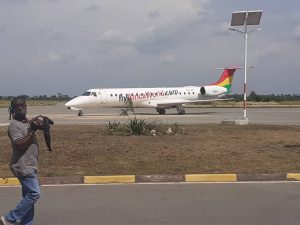 The Volta Regional Minister, Dr. Letsa, has stressed that gains made in operationalising the airport is testament to the government's commitment towards developing and expanding the Volta Region.
That notwithstanding, he encouraged the residents to patronise the airport to keep the airline companies in business. Should the patronage increase, weekly flights will become bi-weekly then eventually daily flights.
He said the impact of the airport is limitless, especially in the area of tourism, education, health and business as lecturers, students, business people, tourists, specialists and health emergencies will have a smooth journey to and from the national capital.
From Fred Duodu, Ho (k.duodu@yahoo.com)