Vice President, Dr. Mahamudu Bawumia is a convention-defying politician in more ways than one.
His signature policy since taking office, the digitalization agenda, has raised many eyebrows as it is out of the box.
Recently, his gold-for-oil policy is another unconventional idea he pulled out of a box to deal with a persistent problem.
This unconventional nature appears to be paying dividends in more ways than one for Bawumia.
At a point where the country is facing numerous challenges and politicians remain unpopular, Bawumia appears to buck this trend ahead of the upcoming Presidential primaries of the ruling party.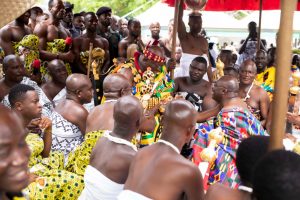 On Sunday, the Vice President managed to unwittingly turn the Asante -Akwasidae into a rally ground as he was mobbed unendingly by attendees.
Dr. Bawumia, joined the Asanteman to celebrate the 2023 second Akwasidae festival of the Asantes with the Asantehene, Otumfuo Osei Tutu II, sitting in state at the Manhyia Palace.
He was accompanied by his wife, Samira Bawumia, both of whom were clad in splendid Kente cloth.
Among his entourage were a huge number of Chief Executive officers of state Institutions, Regional and Constituencies chairmen of the ruling New Patriotic Party among others.
Also, a total of 90 Majority of the Members of Parliament (MPs) belonging to the ruling party joined Vice President Dr. Mahamudu Bawumia.
The list of lawmakers attending the event shows that about 30 of the MPs who hail from the Ashanti Region were in attendance.
Eastern Region came second with 11 MPs followed by Northern Region before Greater Accra who both had nine MPs.
The Members of Parliament were led by the Majority Leader, Osei Kyei-Mensah-Bonsu, Majority Chief Whip, Frank Annoh-Dompreh, First Majority Chief Whip, Habib Iddrisu, Second Majority Chief Whip, Lydia Alhassan, Deputy Minister for Finance, John Kumah, Minister for Education, Dr. Yaw Adutwum among others.
BY Daniel Bampoe