Vice President Mahamadu Bawumia
Vice-President Dr. Mahamudu Bawumia has expressed confidence in the newly launched Cocoa Management Systems (CMS) initiative.
CMS is a comprehensive database being built by the COCOBOD to have relevant information within the cocoa value chain. It is designed to collect, process and manage data and information on cocoa farmers, their farms, farm size, their dependents, activities, location, farm task, GPS information and many more.
It is also intended to help government and the Ghana COCOBOD plan how to manage the cocoa industry.
Speaking at the launch of the CMS in Accra last Friday, Dr. Bawumia said "I am reliably informed that the successful completion of the CMS will pave the way for the smooth implementation of the cocoa farmer's pension scheme."
"It is for this reason that I am proud to launch this CMS today. This is going to be a game changer in Ghana's cocoa industry," he noted.
His reason was that "the CMS is going to build a database of all cocoa farmers in the country on all cocoa transactions from the census of farmers, to farm ownership, to input supplies, record of harvest and buying agents among other transactions."
"At the click of a button, the CMS system can show all the needed information in real time. This is a seamless technology platform that will help COCOBOD manage the cocoa industry," he revealed, while indicating that "for the first time, every programme, policy intervention, plan and projection and infrastructural development  needed in cocoa growing areas will be based on verified data."
With that, he was sure there would be "certainly no more cocoa roads in Accra" and that "the CMS will reject such intervention."
CMS, the Vice-President said "is not only in line with government's digital transformation agenda, but will also bring enormous benefits to stakeholders of the cocoa industry, especially farmers."
"Imagine what this platform will do in compiling census of farmers once we start the Cocoa Farmers Pension Scheme. We will know the cocoa farmers, their census, their demographics and their output and how to help build up their pension scheme," he stressed.
Dr. Bawumia commended the COCOBOD under the leadership of Joseph Boahen Aidoo, for initiating this noble programme which had given meaning to government directives to its agencies to digitize their operations, saying "I will implore you to put in place measures aimed at building in-house capacity to manage the system to ensure ownership and sustainability."
He urged all the stakeholders especially farmers to cooperate with COCOBOD as it began the process; and appealed to the media to sensitize farmers on the benefits of the CMS.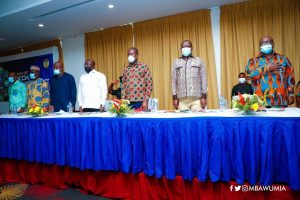 By Charles Takyi-Boadu, Presidential Correspondent