President Nana Addo Dankwa Akufo-Addo yesterday presented 858 vehicles to the Ghana Education Service (GES), a gesture which is seen as a major boost for the agencies in the educational sector.
The GES, an agency under the Education Ministry, has received the vehicles through the Ghana Education Trust Fund (GETFund).
The vehicles were made up of 365 Isuzu Double Cabin pickup trucks, 260 of which have been allocated to metropolitan, municipal and district education offices to support their managerial and supervisory roles.
The remaining 105 are earmarked for the Ministry of Education-10, Ghana Education Service-5, National Inspectorate Board-30, National Council on Curriculum & Assessment (NaCCA)-5, National Accreditation Board-3, Ghana Library Authority-20, Free SHS Secretariat-10 and the UNESCO Commission Ghana-23.
The rest are Funds, Procurement & Management Unit (FPMU)-3, Council for Technical, Vocational Education & Training (COTVET)-2, National Teaching Council-2, Centre for Distance Learning & Open Schooling (CENDLOS)-2, National Board for Professional & Technician Examination (NABTEX)-3, Non-Formal Education Division-5 and Encyclopaedia Britannica-1.
The remaining trucks will be allocated to selected schools in the country to support their administrative work.
Besides, government has procured 2,000 motorbikes to aid the work of circuit supervisors and to further enhance their supervisory roles in the educational sector, 493 of which were distributed yesterday with the distribution list as follows: Bono Region-80, Savannah Region-39, North Eastern Region-38, Northern Region-89, Upper East Region-111, Upper West Region- 85 and Ahafo Region-51.
In addition to this, 350 buses comprising 100 33-seater buses and 250 66-seater buses have been procured and will be distributed among senior high schools in the next couple of months.
Firm View
Vice-President Dr. Mahamudu Bawumia, who stood in for the President at the handover ceremony in Accra yesterday, said, "President Akufo-Addo's government has always been of the firm view that if this nation is to make any headway in its quest for industrial development and building a resilient and capable society then we must pay particular attention to the development of its human capital."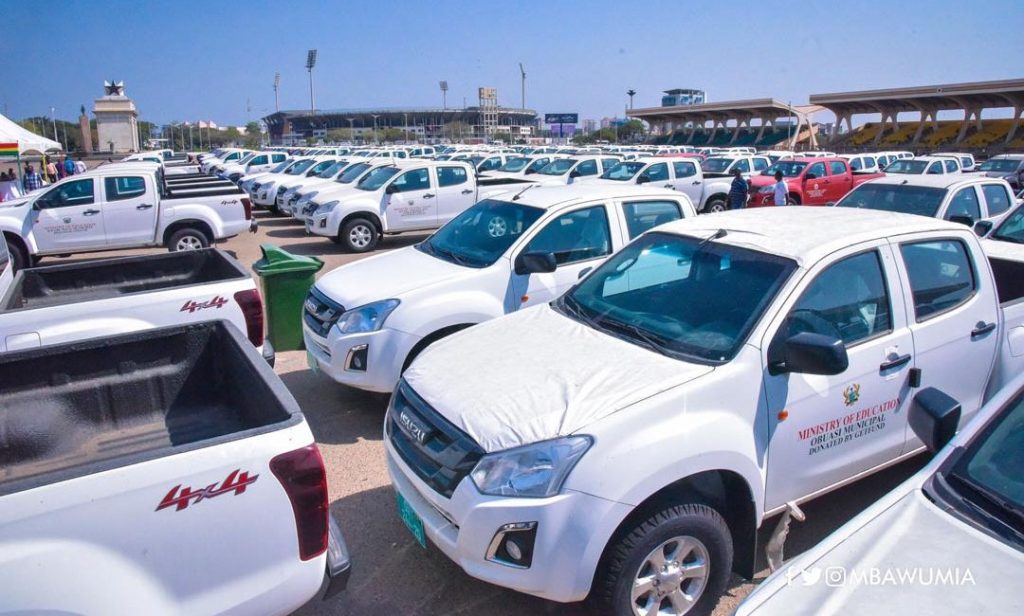 "That is what drives this government's commitment to the educational sector to ensure that every Ghanaian child has the opportunity of quality education no matter their family circumstances. Our Free SHS programme is hinged on this core belief and vision that barrier-free access is particularly important in the drive towards an educated population," he added.
He, therefore, expressed appreciation to the GETFund for funding the procurement of these vehicles, saying "GETFund remains a critical player in the provision of school infrastructure in this country, and I am confident that in the discharge of its mandate, it shall continue to make itself more relevant and responsive to our educational needs as a country."
He took the opportunity to advise those being given responsibility for the vehicles to ensure that they are taken good care of to serve the purpose for which they were procured, adding that "it is your duty to ensure that they are put to good use and not misused. This government will continue to invest in the education of its citizens because it is the right thing to do."
"We will continue to invest in our frontline managers of our educational institutions because they are central to any educational reform we seek to pursue, and we must equip them with the necessary tools to enhance their work to enable them to deliver their mandate in a more efficient manner responsive to the needs and challenges of the 21st century. We will not relent on this commitment," he stressed.
By Charles Takyi-Boadu, Presidential Correspondent