The Ministry of Health (MoH) on November 22, 2021, received additional 1.2 million doses of the Johnson & Johnson Covid-19 vaccine procured by the government.
The arrival of the vaccine brings the number of Johnson & Johnson vaccine doses procured by the government to 1,622,000 doses.
Chair of the Health Commodities Group for Covid-19 at the MoH, Matthew Kyeremeh, speaking with the media after taking delivery of the package said the number is part of 16.9 million doses of Johnson & Johnson Covid-19 vaccine the government has earmarked to purchase for citizens.
He said as the vaccine market becomes more accessible, more vaccines would be bought in accordance with the Food Drugs Authority's approval to augment the donations the country is receiving from its development partners.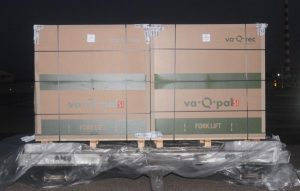 US Donation
Meanwhile, the MoH has taken delivery of more than 1.7 million doses of the Pfizer Covid-19 vaccine donated by the US government.
The package increases the total of US donated Covid-19 vaccines to Ghana to more than 4.2 million doses since September 2021.
Delivered through COVAX, the donations are part of the US' global efforts to fight the Covid-19 pandemic.
US Ambassador Stephanie Sullivan was joined by Deputy Minister of Health Mahama Asei Seini, Deputy Minister of Foreign Affairs and Regional Integration Kwaku Ampratwum Sarpong, the UNICEF Country Representative to Ghana Ms. Anne-Claire Dufay, and representatives of the Ghana Health Service, to receive the vaccine doses at the Kotoka International Airport, in Accra.
Ambassador Sullivan said, the life-saving vaccines, donated on behalf of the American people, will help save Ghanaian lives, as the two countries work together to defeat the virus.
"These doses are the same safe and effective vaccines used in the United States.  There is no better time for Ghanaians to protect their families and communities by getting the jab."
She said US has strongly supported Ghana's Covid-19 response efforts, providing more than $30 million to support various interventions including the purchase of personal protective, testing, and medical equipment, training for medical professionals, and economic assistance for impacted communities.
Deputy Minister of Health, Mahama Asei Seini, expressed gratitude to the US government for the generous donation.
He said the donation was timely as the GHS has expanded the eligibility criteria for people who can take the Pfizer Covid-19 vaccine to 15 years and above.
He encouraged the public to take advantage of the opportunity created by the government to get their free Covid-19 vaccine jab.
By Jamila Akweley Okertchiri