Ghana has extended the deadline to register for its domestic debt exchange programme to February 10, 2023 after some bondholders experienced "technical glitches" as they tried to complete the process.
According to the finance ministry, the debt exchange has officially ended, but an extension is needed to complete the online tender process for bondholders facing technical challenges.
In a press statement, the Finance Ministry said a new settlement date of Tuesday February 14, 2023, will be confirmed via the new Exchange Memorandum.
"As a result, the government is providing bondholders an administrative window to complete processes for tendering their bonds, in response to the terms of Exchange as amended pursuant to the 2nd Amended and Restated Exchange Memorandum. This administrative window ends on Friday, 10th February 2023 at 4pm (GMT)," the Finance Ministry statement said.
The deadline February 7, 2023 came after the original deadline for the programme expired at 4pm January 31, 2023.
The government is restructuring parts of the country's total debt, estimated at GHC575 billion, in order to access $3 billion in funding from the International Monetary Fund (IMF).
The finance ministry is struggling to implement the domestic debt restructuring as individual bondholders continue to reject the programme due to a lack of clarity over the terms and profitability of the new bonds.
It is unclear if the government has reached its target of 80 percent participation to secure an IMF board approval for the much-wanted bailout to boost the economy.
Find copy of the statement attach below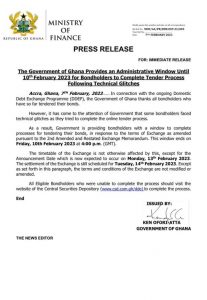 By Vincent Kubi