The Minister for Defence, Dominic Nitiwul, and the Chinese Ambassador to Ghana, Lu Kun, have cut the first sod for the construction of nine military projects in Ghana.
The projects are being sponsored by the Chinese government as part of military aid to improve the infrastructure of the Ghana Armed Forces (GAF).
The projects, which will be built by the China Railway No.5 Engineering Group Company Limited (CR5), will be sited at the Army Recruit Training School, Shai Hills, the Naval Training Command at Nutekpor Sogakope, Air Force Training School at Takoradi and the Battle Training Camp, Bundase. The projects will provide critical assets to enhance training levels, improve accommodation conditions and meet the operational needs of GAF personnel.
Mr Nitiwul, the Minister for Defence, thanked the Chinese Military and all stakeholders for ensuring the commencement of the projects.
He stated that the China Military Aid Gratis Project has come at a better time for GAF to solve its infrastructure needs, as they will need additional accommodation for 12,000 troops within the next five years.
Ambassador Lu Kun, the Chinese envoy in his address, expressed his gratitude to all Ghanaians and Chinese officials who facilitated the implementation of the projects.
He also congratulated the Army Peace Operations Training School (APOTS) for being the first Training School in West Africa to receive United Nations (UN) Certification to train personnel for Peace Support Operations.
The ambassador added that Ghana was the second country in Sub-Saharan whose diplomatic relations with China have been continuously consolidated and cooperative in various fields.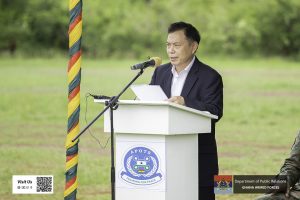 He revealed that China has provided strong support to African countries, such as port calls, joint exercises and training, in strengthening their national defence and launched an assistance programme to help train African Military personnel in the area of law and order, UN peacekeeping missions, anti-piracy, and counter-terrorism.
Ghana has been commended for being ranked in the top ten Troop Contributing Countries to UN Missions.
The country has expanded its military to defend the nation against internal and external threats.
The projects are expected to improve the operations of the Ghana Armed Forces, creating a well-trained personnel and facilities for the operation of the military.
By Vincent Kubi