Five months ago, hundreds of scientists across Africa and other parts of the world gathered in Kigali, Rwanda, with the goal of leveraging science for human development globally.
The meeting, Next Einstein Forum (NEF), created yet another platform for the predominantly youthful participants to connect science, society and policy in Africa with the rest of the world.
The initiative, championed by the African Institute for Mathematical Sciences (AIMS), in partnership with Robert Bosch Stiftung, believes that Africa's contributions to the global scientific community are critical for global progress.
"We believe the next Einstein will be African. We are working to make Africa a global hub for science and technology," Thierry Zomahoun, founder and chairman of the Next Einstein Forum, said.
NEF's global gathering has quickly built up the reputation of Africa's premier scientific meeting. It features high-flying key note speeches, panels, innovation competitions and workshops led by leading scientists and emerging practitioners from around the world.
The NEF communities of scientists include the NEF fellows and ambassadors. The NEF Fellows Programme showcases 15 of Africa's best young scientists on the global stage while the NEF ambassadors are the NEF's young science and technology champions, one from each African country.
Ghana's Dr. Aku Kwamie was awarded as the first NEF Fellow from the country.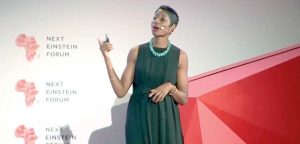 Dr. Aku Kwamie
Peter Asare-Nuamah, who has a penchant for social science research which cuts across e-governance, disaster management, climate change and education, is Ghana's NEF ambassador.
As a NEF ambassador, Mr. Asare-Nuamah is driving NEF's local public engagement activities with strong support from the Ghana Science, Technology, Engineering and Mathematics (STEM) Network, a platform for collaboration and advocacy, which allows members to synergise and achieve more than they ordinarily would act alone.
Various organisations, including the Network, have been at the forefront of inspiring the next generation of scientific problem-solvers and leaders in the country through extra-curricular STEM clubs and in-school practical science activities by organisations such as The Exploratory and Kumasi Hive (Prac-Science Lab).
Also,  innovation boot camps and competitions targeting junior and senior high students from Young at Heart, GhScientific, Innovate Ghana and Nsesa Foundation, practical science training for teachers using low-cost materials spearheaded by Practical Education Network (PEN) and science and technology outreaches and public engagement led by Young at Heart, GhScientific, the Ghana Planetarium and Global Lab Network are few of the initiatives taking place in Ghana to get younger population interested in STEM.
Recently, Kumasi Hive, Global Lab Network, The Exploratory and some international partners launched Africa Open Science & Hardware Summit in Kumasi to promote a culture of sharing and collaboration in the scientific community.
Why STEM?
There is no doubt that science and technology are important drivers of development globally.
Data shows that African countries contribute to less than two per cent of global research outputs.
In Ghana, government investment into research is still less than one per cent of the gross domestic product (GDP) despite plans to fill research funding gaps.
Low governmental investments into scientific research partly explain the observed relatively low scientific publications and patent registrations by scientists in Ghana and across Africa.
Other possible triggers include the theoretical nature of the education system and a science society disconnect fed by low public understanding of science.
But the government of Ghana has also been trying to improve the research and innovation landscape through plans like a national research fund and more focus on STEM in the national curriculum.
African Science Week- Ghana
NEF initiated Africa Science Week (ASW) to further ignite the power of science around the continent.
Africa Science Week is led by NEF ambassadors, and Ghana would be hosting it for the first time with support from AIMS Ghana and the STEM community from September 25- 29, 2018.
The NEF Africa Science Week celebration is Africa's biggest annual celebration of science, technology, engineering and mathematics (STEM) that brings together thousands of participants to engage in coordinated events aimed at promoting the adoption of STEM across the African continent.
The celebrations are being held in over 34 African countries, including Ghana, Cameroon, La Côte d'Ivoire, Kenya, Malawi, Mali, Morocco, Nigeria, Senegal, Rwanda South Africa, Tanzania, Sudan, among others.
The maiden Ghana event is expected to be the biggest celebration of STEM in the country with a host of initiatives and events planned across multiple regions over a one-week period.
The celebrations, designed to be both a thought leadership and experiential event, will bring together over 5,000 participants and key stakeholders to create awareness and drive greater participation in STEM.
"We are truly excited that Ghana is joining 33 other African countries to commemorate the NEF Africa Science Week for the very first time this year. This celebration presents our country with a unique opportunity to elevate the conversation, drive greater participation and celebrate individuals and organisations in STEM in Ghana," President of AIMS Ghana, Lucy Quist, revealed.
She continued, "Africa is on the verge of economic transformation built on science, technology, engineering and mathematics. We have a unique opportunity to truly transform our economies leveraging STEM as an accelerator. Platforms such as the NEF Science Week are a great starting point for meaningful conversations and engagements. We are looking forward to a truly memorable celebration."
Mr. Asare-Nuamah explained that Ghana STEM conference presents a distinct platform to showcase the latest discoveries and innovations in the field.
"It is a must attend for all practitioners and businesses that are looking for an opportunity to showcase their products to an active audience," he concluded
Gameli Adzaho, a STEM educator, founder of Global Lab Network and a member of the Ghana STEM Network with nearly a decade's experience in the local innovation scene and organisation of STEM activities, was thrilled to support NEF ambassador Peter Asare-Nuamah, AIMS Ghana and colleagues in the STEM community to set up events that would illuminate the love of science in young people.
"The celebrations give us the chance to reach out to the public about the wonders of science and get them to buy into our various efforts to promote STEM for development. Global Lab Network is truly delighted to contribute," he added.
Showing his support for the event, Dr. Thomas Amatey Tagoe, co-founder of GHscientific, said, "Good things happen when the scientific community engages with the public and this will be evidence of that. What's more exciting is that we so many have gotten involved allowing us to take this all over the country because indeed STEM is for everyone."

Activities
The one-week celebration will commence on Tuesday, September 25 with regional events targeted at empowering through practical and immersive STEM experiences across the Volta, Northern, Ashanti and Greater Accra Regions with initiatives such as coding and virtual reality outreaches, open science experiential, data science, hackathons, among others.
The celebration will culminate in the biggest gathering of students, academics and businesses in STEM at the Ghana STEM conference, a full day event incorporating key note addresses, panel discussions and exhibition opportunities for several businesses under the theme: 'Accelerating Growth & Development Through STEM'.
The NEF Africa Science Week celebration is powered by Upendi PR, a leading PR and communications firm providing total communication solutions to businesses and individuals across Africa.
The celebration is expected to attract and impact over 5,000 participants across four regions over a five-day period as follows:
Day 1 — Full day coding and virtual reality workshop for pupils from selected junior high schools in Ho (Volta Region) in partnership with the Ghana Code Club and Ho Node. Participants will be empowered to code games using Scratch programming.
Day 2 — Full day practical science and open hardware activities in selected schools in Tamale (Northern Region) in partnership with TeachForGhana.
Day 3 — Exhibition of local innovations and conversation on open science and hardware for local business plus hands on STEM activations for selected basic schools in Kumasi (Ashanti Region) in partnership with Kumasi Hive.
Day 4 — Full day Africa Science Week conference and exhibitions involving keynotes, panel discussions and exhibitions of the latest innovations in STEM at the Ghana Academy of Arts & Sciences, Accra.
Day 5 — STEM open day and exhibitions for young people at The Planetarium, and a data science & hackathon (data-thon) for problem solvers, in collaboration with The Planetarium, Developers in Vogue and Global Lab Network.
By Jamila Akweley Okertchiri