Kuami Eugene
Popular musician, Kuami Eugene is back in the headlines over allegations of song theft.
A female musician called Bhadext Cona is accusing him of stealing her song titled, Bolga.
Speaking on Rainbow Radio, she alleged that she sent him the song for a feature but he allegedly described the song as "childish."
Then he subsequently went on to allegedly remake the song into his latest song titled, Bunker.
"I don't want to talk about Kuami Eugene because I am better than he is. He is not better than I am. I am a great musician than he is. If you can steal my song and remake it into a new song, then I am far superior to you are," she claimed.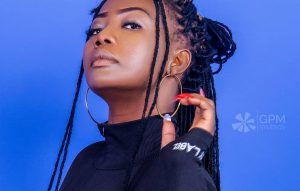 Bhadext Cona
"So far as he stole my song, then it proves that I am better than he is. He is aware that he stole my song but I don't want to talk about it," she added.
The allegation is coming four months after Ghana-based Nigerian musician Oduma Essan reportedly sued the musician GHC120,000 over allegations of plagiarising his song.
The Nigerian artiste, Oduma Essan, reportedly sued Kuami Eugene for allegedly plagiarizing his song.
Oduma said Kuami Eugene took his song, Show Body, and re-worked it without permission. He would therefore pursue the case until he is satisfied.
"I feel so sad. I am not happy and what he has done to me he has done it to a lot of people. I believe this is the time we should put a stop to this thing. He should have acknowledged me as the originator and owner of the song," he said at the time.
"You don't go and steal my song and bring it back and say it's your song, he added.
Now it's Bhadext Cona complaining about Eugene.