The medical equipment donated to the centers on behalf of the MP, by his constituent executives
The Majority Chief Whip, also Member of Parliament for Nsawam/Adoagyiri in the Eastern Region, Frank Annoh-Dompreh as part of efforts to improve the health service for his constituents has donated some medical equipment to five health centers in his area.
The beneficiary health centers are; Old Hospital, Djankrom, Nkyenenkyene,  Otukwadwo, and Fotobi respectively.
They received items including Fridges, Autoclaves, Air-conditions, Generators, Step downs, Mattresses, UPS, Chairs, Printers, Instrument Drums, drip stands, Weighing scales, BP apparatus,  Thermometers, Examination Couches, Glucometers, Veronica Buckets,  Dressing sets, delivery sets, Foethoscope, Shelves and cabinets, Haemoglobin Blood checking tools, and Height meters at the cost of Ghc 120,000.00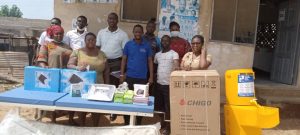 The MP further painted and rewired the laboratory and detention rooms of the old hospital.
The Majority Chief Whip has also donated an amount of GHC50,000 for the expansion of the Maternity Block at Nsawam Government Hospital, as well as distributed over 300 Wheelchairs and Walkers to all the health facilities within the Constituency.
In addition, he has also distributed 10 Ultramodern Delivery Beds to some health facilities to help in child delivery and extra 30 Hospital Beds to some health facilities within the municipality at the cost of GHC90,000.
Mr. Annoh-Dompreh recently procured 20 Ultramodern Medical Monitors for the Nsawam Government Hospital at the cost of $20,000.
BY Daniel Bampoe