Ken Ofori-Atta
Majority Caucus in Parliament has stood down it request for President Nana Addo Dankwa Akufo-Addo to immediately dismiss Finance Minister before the 2023 economic statement and budget is presented.
The members of the governing New Patriotic Party (NPP) in Parliament have rescinded their decision to boycott the upcoming budget to demand the removal of the minister.
This follows recent public and media tension after the President had engaged the Majority Caucus over the removal of the Finance Minister and Minister of State at the Finance Ministry of which a statement was issued.
Though there have been occasionally individual interventions, some have not helped find resolution to the issue in contention as some gave rather escalated matters.
However, at a meeting held on Tuesday November 22, 2022 according to a joint statement signed by Majority Chief Whip, Frank Annoh Dompreh and Justin Kodua Frimpong, General Secretary of the NPP, the aggrieved majority caucus has agreed to abide by the agreement they earlier had with President Akufo-Addo which will see to the minister going after conclusion of rounds of negotiations with the International Monetary Fund (IMF) which would be fed into the 2022 budget.
They also agreed to allow the Finance Minister present the 2023 budget statement and subsequent presentation and passage of the Appropriation Bill.
It must be noted that "the meeting agreed that the President will act upon the initial request of the NPP Parliamentary Caucus after the conclusion of these matters."
The party leadership and majority caucus have implored the NPP MPs to resort to the use of the appropriate communication channels to address their grievances.
Read full statement below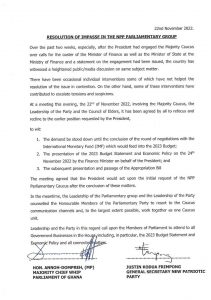 By Vincent Kubi