Former Constituency Chairman of Ningo-Prampram, Michael Tetteh Kwetey has filed his nomination forms to contest the National Democratic Congress (NDC) parliamentary primaries in the Ningo-Prampram Constituency of the Greater Accra Region.
Highly tipped to win the primaries, the business mogul said his aim is to give the people of Ningo-Prampram a befitting and responsible representation in parliament.
Accompanied by happy and enthusiastic delegates, the astute politician who contested for the Greater Accra NDC chairmanship position, few months ago but lost with less than thirty (30) votes, handed over his nomination forms to the area's Election Directorate at Constituency office of the NDC.
While calling for peaceful and decorous campaigns, Mr Kwetey assured his supporters that he would win the election which is slated to take place on 13 May, 2023, by a landslide, this time around.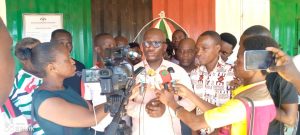 "I am happy to be here to honour the NDC constitutional requirement of filing my nomination to contest the upcoming parliamentary primaries in my constituency and I am confident of a massive victory come 13th may, 2023", he noted.
Speaking to the media after successfully filing his nomination forms, Mr. Kwetey called for unifying, clean, decent and issue-based campaigns that will lead to peaceful elections.
"We have to avoid personality attacks and campaign based on issues so that it will be easy for us to come together and work towards an NDC victory in 2024," he indicated.
He also used the opportunity to dispel rumors that he had been disqualified from contesting the upcoming parliamentary primaries in the constituency describing it as laughable and stupefying fear-laced propaganda from his opponent's camp.
He therefore, called on his teaming supporters to disregard such malicious and propagandist rumours being cooked from the evil-pot of his opponent's camp just because they do not have any message to convince the delegates again.
"How can you be going round with a campaign message that I have been disqualified from contesting the parliamentary primaries when I am now filing my nomination forms and yet to go through vetting? I mean how? I just contested regional chairmanship position in Greater Accra few months ago. So how can I be disqualified"?, he quizzed
Mr Kwetey who contested in the last parliamentary primaries and was defeated with only seven (7) votes also indicated that he will work to ensure an absolute victory for the NDC in the Ningo-Prampram Constituency when he wins the knot to the constituency into the 2024 general elections.