Miss Ghana Foundation celebrated this year's Valentine's Day with Children of the FOCOS Hospital.
This was a programme that forms part of the charity wing of the beauty pageant`s social interventions within the year.
Miss Ghana 2022, Miriam Xorlasi Tordzeagbo, and her runner-up Rocklyn Krampah and Miss Ghana 2022 Oti Regional Representative, Rukyatu Yakubu shared food items for the kids at the hospital amidst merry-making, dancing and singing.
Isaac Kojo Yamoah Quainoo, Head of Projects at Miss Ghana Foundation said the exercise was the Organisation's first project for the year.
It was the major priority of the foundation to spend time with the children to put smiles on their faces and to show them much love.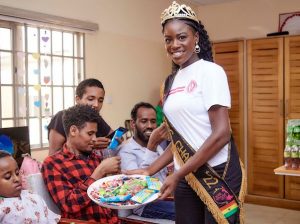 He further explained that February is a season of love and every individual, as well as groups, could choose to celebrate the season in diverse ways, but they decided to spend time with kids of the FOCOS Hospital Children's ward.
Miss Tordzeagbo said "It is a great joy that this programme had been successful, which is ultimately aimed at putting smiles on the faces of these kids in this month of love," she stated.
A representative of the Hospital, Paschalina Adaambap, expressed her appreciation and called on more philanthropists and other non-government Organisations (NGOs) to support the Hospital.