President Nana Addo Dankwa Akufo-Addo has decided to pardon the former Deputy National Security Coordinator, Alhaji Salifu Mimina Osman on health grounds.
The President wrote a letter to the Minister of the Interior, Ambrose Dery, requesting the release of Alhaji Osman from custody.
This decision came after a petition was submitted to the Office of the President by the Paramount Chief of Kpembe Traditional Area, Kpembewura Haruna Dari Bismark Banbange Ndefoso I, a former DCE for Salaga under the Kufuor administration. The petition, dated July 26, outlined Alhaji Mimina Osman's ill-health and good behavior as reasons for his deserving a presidential pardon.
In response to the petition, the Secretary to the President, Nana Bediatuo Asante, issued a statement on August 1. The statement revealed that President Akufo-Addo, after consulting with the Council of State, has decided to exercise his prerogative of mercy in favour of Alhaji Mimina Osman. This decision was made in accordance with Article 72(1)(a) of the 1992 Constitution.
The response from the Secretary to the President also directed the Interior Minister to take the necessary steps to immediately give effect to the presidential pardon.
Alhaji Mimina Osman was previously found guilty of 14 different charges, which included causing financial loss to the state and contravening the Public Procurement Act in the procurement of surveillance equipment (spying machines) for the National Security Council Secretariat with funds from the National Communications Authority (NCA) without board approval.
He was sentenced to five years in prison along with two other board members of the NCA, Eugene Baffoe-Bonnie and William Tetteh-Tevie, by Justice Eric Kyei Baffour in 2020. The fourth accused person, was acquited and discharged.
The three individuals collectively received a total of 16 years in prison with hard labour from the Accra High Court.
It remains to be seen how Alhaji Osman's release will be received by the public, especially considering the seriousness of the charges he was convicted of.
The decision to grant a presidential pardon based on ill-health and good behavior raises questions about the criteria for such pardons and the implications it may have on the justice system.
Find copy of the petition attached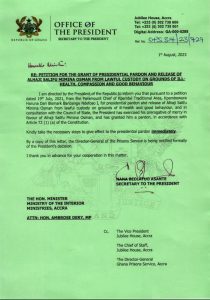 By Vincent Kubi