SENIOR SPECIALIST Paediatrician at the Komfo Anokye Teaching Hospital (KATH) in Kumasi, the Ashanti Region, Dr. Vivian Painstil, has bemoaned the low level of diagnosis of Hemophilia cases in health facilities across the country.
According to her, with an estimated 1,500 potential cases of Hemophilia in the country, only a meager 397 cases, which is just about 27 per cent, are successfully diagnosed.
Dr. Painstil made these revelations during a virtual media round table event put together by multinational pharmaceutical company, Pfizer, to commemorate World Hemophilia Day which comes off on April 17 this year.
Hemophilia is a genetic bleeding disorder that causes the blood to take a longer time than usual in clotting because of a deficiency in one of several blood clotting factors; and this usually affects children as well as some adults.
Dr. Vivian Painstil, who is also a Senior Lecturer at the Department of Child Health at the Kwame Nkrumah University of Science and Technology (KNUST), also revealed that only teaching hospitals and some selected regional hospitals in the country provide care support for hemophilia patients, but even at that, they do lack the requisite resources in providing comprehensive treatments for such cases.
"Due to lack of resources, including logistical and human resources at the district health facilities, people with the condition [Hemophilia] could not access care from such places and as such, had to travel to the Teaching or Regional hospitals in order to be seen", she lamented.
She, therefore, urged the government to provide health facilities with adequate drugs as well as the needed equipment that would enable health professionals to diagnose and treat more Hemophilia cases in the country.
Dr. Painstil, encouraged government to as a matter of urgency, include the diagnosis and treatment of Hemophilia under the coverage of the National Health Insurance Scheme (NHIS), insisting that its inclusion under the Scheme would help the country make more diagnostics, and offer early intervention to persons with the condition.
The Pfizer media round table dialogue forms part of the company's efforts in reinforcing its longstanding commitment to hemophilia awareness while driving home the need for innovation in access to hemophilia treatments.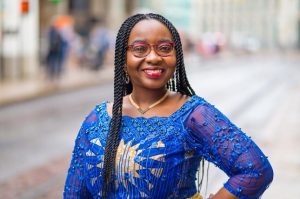 Dr. Vivian Painstil, Senior Specialist Paediatrician, KATH
Kodjo Soroh, Medical Director, Sub-Saharan Africa, Pfizer stated that Pfizer's efforts at advancing treatment for hemophilia and bridging gaps in access to care resonates with this year's theme of World Hemophilia Day's (WHD) 'Access For All: Prevention of Bleeds.'
He also iterated Pfizer's goal in making sure patients living with hemophilia are seen, heard, and never forgotten, saying they would continue to work tirelessly to find breakthrough solutions and therapeutic options to change lives.
On his part, Prof. Akanmu Sulaimon, Professor of Hematology and Blood Transfusion from the University of Lagos, Nigeria, also shared that people with hemophilia were usually at risk due to excessive and recurrent bleeding from simple injuries, which have the potential to be life-threatening.
This, he explained, was because, people with severe hemophilia often bleed spontaneously into their muscles or joints, or rarely into other critical closed spaces such as the intracranial space, where bleeding can be fatal.
He, therefore, stressed the need for more awareness to be created on the condition so as to stem its impact on Africans.
BY Nii Adjei Mensahfio