Alban S.K. Bagbin
Speaker of Parliament, Alban S.K. Bagbin has been bestowed with the stool name, Togbe Nutefeworla I of Awudome by the Chiefs and people of Awudome Traditional Area in the Volta Region.
His title is one of the highest honours of the area.
Speaking after the brief ceremony in Parliament House, Mr. Bagbin assured the people that his commitment to impartiality is unshakable.
He expressed gratitude to the Chiefs and people of Awudome Traditional Area, assuring them of his commitment to perform his duties with integrity.
"My recognition as King of Integrity is a serious honour, and I want to assure the good people of Awudome Area that I will continue to do my work as impartially as is humanly possible.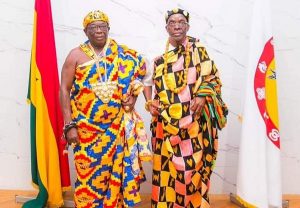 "It is the institution of Parliament that can really hold the Executive Arm of Government to account to the good people of Ghana. If a Parliament cannot stand the demands of an overbearing Executive, the Executive simply does what it wants.
"It is in this spirit that I may even go beyond to recommend that we have a Minority Government where the majority MPs are in opposition, but a sterling leader is elected to be President of Ghana," he said.
By Vincent Kubi