Over One hundreds of thousand Ghanaian youth and Ghana based American Citizens besieged the forecourt of the Black Stars Square, Accra, attending the United States of America, Vice President, Kamala Harris programme with young people.
Ms Harris who is currently in Ghana on a three-day tour this morning, 28th March 2023 delivered a major speech to an audience of young people at the Black Star Square.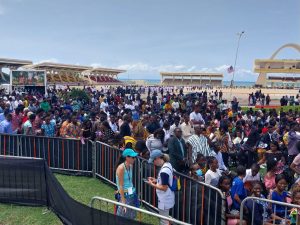 The youth mostly from the various Universities stormed the Independence Square as early as 5am waiting to be screened at the checkpoints mounted by the US Secret Service.
The individuals gathered were invited to the venue by the American Embassy in Ghana, through a registering platform.
While waiting for the arrival of the Vice President of the US, the guests were lined up at given restricted points being barricaded by the Security Services as they were given a Ghana and America flag to wave when the Vice President arrived.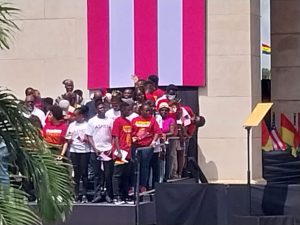 Scores of guests when interviewed by some media houses say, they come to listen to the public address which will be delivered by Kamala Harris.
Ahead of the arrival of the Vice President, the United States Secret Service operatives had taken over Independence Square, Accra ensuring that individuals entering the premises were properly screened ahead of the arrival of Vice President Kamala Harris.
Ahead of her public address at the Black Star Square, the Ghana Armed Forces, and the Ghana Police Service were providing additional security services across her routes in Accra.
The Police have also blocked some of the roads around Independence Avenue.
Harris after delivering her speech in Accra, will visit Cape Coast Castle, and meet with leaders of Ghana, Tanzania, and Zambia to discuss issues such as food security, climate change, and investments.
-BY Daniel Bampoe