Jean Mensa – Chairperson of EC
The Electoral Commission (EC) has announced that it will be conducting the Nkoranza North and Nkoranza South District level elections in April 2021.
In a statement dated February 23, 2021, the EC said it will be conducting the elections in accordance with the District Level Elections Regulations, 2015 (C.I. 89).
It stated that the elections will take place on April 16, 2021.
"This follows the expiration of the term of Office of the Assembly and Unit Committee Members of the two Districts," it added.
Below is the statement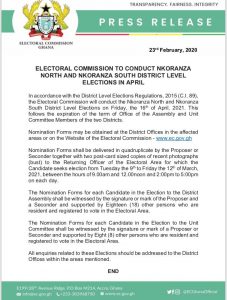 By Melvin Tarlue