The late Major General Constance Edjeani-Afenu (Rtd)
"The Lady In Boots," a memoir authored by the late Major General Constance Edjeani-Afenu (Rtd), has been launched in Accra.
This was at a significant literary event that took place on Wednesday, September 6, 2023, at the Burma Hall in Burma Camp in Accra
The 326-page book offers a captivating glimpse into the life of Ghana's First Female Major General in the Armed Forces.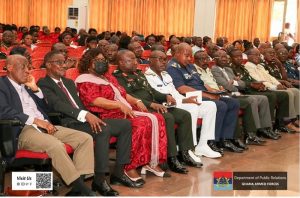 The memoir gracefully navigates through the remarkable journey of Major General Edjeani-Afenu, from her humble childhood to her illustrious career as a Military Officer, a Peacekeeper, a Diplomat, a devoted wife and mother, and a steadfast servant of God.
She was the sister of the popular actress, Akofa Edjeani Asiedu.
One of the book's noteworthy achievements is its emphasis on Gender Mainstreaming, offering a beacon of leadership and inspiration for aspiring young females who aspire to join the Ghana Armed Forces.
Major General Edjeani-Afenu's story is an embodiment of hope and ambition for women in the military, setting a standard for excellence and dedication.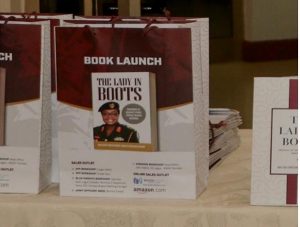 The distinguished Guest of Honour and Chairman of the book launch, former Chief of Defence Staff (CDS), and Ghana's current Ambassador to Egypt, Lieutenant General Obed Boamah Akwa (Rtd), expressed his gratitude to all attendees and underscored the uniqueness of this literary event.
He praised the author for providing an intricate account of her life, family, and military career, all for the sake of posterity.
He noted that Major General Edjeani-Afenu's ability to complete this memoir before her passing is a testament to her foresight, unwavering commitment, and profound sense of purpose.
Brigadier General Anita Asmah, who reviewed the book, highlighted its historical significance, shedding light on the author's substantial contributions to gender mainstreaming within the Ghana Armed Forces. She noted that an entire chapter in the book is dedicated to contemporary gender issues, offering a valuable resource for understanding and advancing gender equality and mainstreaming within the Ghana Armed Forces and the United Nations.
"The Lady In Boots" not only preserves the memory of a remarkable individual but also serves as an inspiring testament to the achievements and possibilities for women in the military and beyond. It is expected to become a valuable reference for those interested in the history of women's contributions to Ghana's armed forces and the ongoing journey towards gender equality and empowerment.